Last updated – April 8, 2022
A lot of WordPress themes are compatible with WooCommerce and you'll be spoiled for choice when set out to choose one. The trick lies in finding out the best ones that are created exclusively for WooCommerce. This article offers a few tips to help you in your search for finding the best WooCommerce themes for your store. Let's dive in…
Clear and simple aesthetics
A complicated design definitely has its charm. But when you are running an online store, your aim is definitely not to impress with design prowess. Majority of your customers will be really interested in a design interface that gives a clear idea of the product. Your focus should be on reaching out to these customers in the best possible way.
Nothing does this more effectively than simplicity, and you should be very sure that your theme at no point confuses your customer. Your theme should display a relentless focus on presenting the product features effectively.  Same way, it should let your customers navigate through your site effortlessly. In simple terms, the theme you use should provide your customers with the information that they are looking for.
Moreover, the theme that you choose should be suitable for your industry. Try to use color schemes and design elements in tune with the overall vibe of your store. Basically, you should be able to display your brand strategy effectively through your theme. For example, you will find a lot of Storefront child themes that are simple and industry-specific.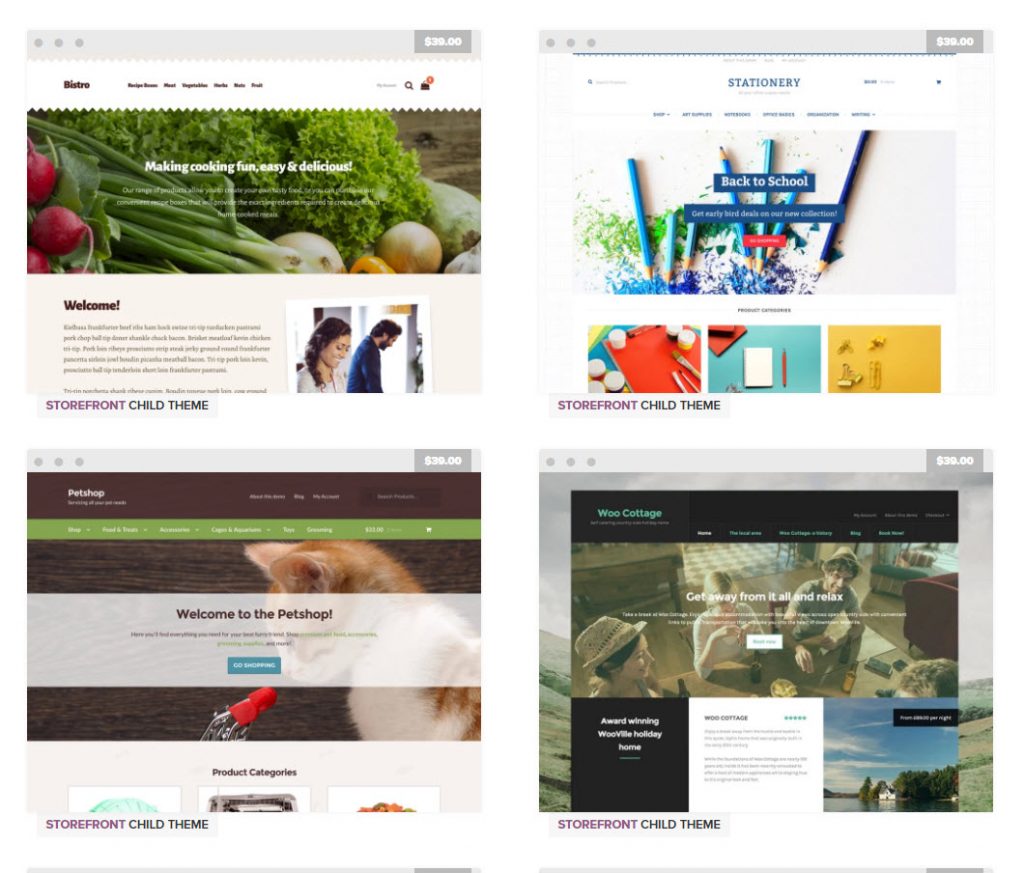 Complement products
The visual appeal of your site is definitely important, but it is not just about the look and feels. The design you choose should complement the products you sell too. In addition, you have to take your customers' preferences into consideration too. For example, a theme that works well for a designer clothing store won't be quite the option for a kids' toy store. The trick lies in finding a theme that suits your products and customer interests without hassles.
Ease of setting up
When you get a WordPress WooCommerce theme, you would want to set it up without much trouble. After all, the whole idea of a theme is to be able to design a good looking website, even when you don't have any coding knowledge. The demos that come with most popular themes do this work for you. You can simply install a demo that you liked through a single click and then change the content.
So, one of the things that you should look for when searching for a new theme should be the availability of demos. It will help you greatly in getting familiarized with a new theme.
Customization options
The possibility to add a personal touch makes your store different from all the other ones out there. Your theme's customization options play a huge role in this. If a theme's customization options are limited, all the sites powered by it will look similar. The theme's scope of customization will surely reflect in the design of your site. You can test the customization capabilities of a theme by loading it on your test site. Check thoroughly for all the added features the theme provides before finalizing.
Responsive design
Your theme should be optimized to give a good customer experience on a variety of devices. A responsive theme would make sure that your customers have a great experience irrespective of whether they are using your site on a desktop computer, cell phone, tablet or something else. Most of the themes available in the WooCommerce marketplace currently are responsive.
However, it is a good idea to ensure your theme is responsive before finalizing your purchase. Right after installing a theme, check thoroughly on different devices to see it is working as expected. Things like your checkout flow should be working smoothly on all devices.
Integration with WooCommerce
When you are searching for a theme for your store, naturally you should ensure the perfect integration with WooCommerce. You have to make sure the products are displayed correctly, along with other aspects like cart, reviews, etc. Product sliders, advanced search fields, etc., that are provided with major themes, will also help you display products more effectively. You might need to also check if you can easily import products while using a theme, and display brands or vendors as per requirement.
Regular updates
Regular updates should be an important criterion while choosing a good theme for your WooCommerce site. This is due to multiple reasons. WordPress and WooCommerce are reputed for regular updates. Regular updates will make sure the theme stays compatible and conflict-free with the latest versions of WordPress and WooCommerce. You can get more insights on WooCommerce compatibility here.
Regular updates also enable you to stay ahead of any security flaws on your site. You can look for recent updates on the 'Last updated' date on the theme's listing on WordPress theme directory. You can also check the 'Development Log' to see the release history.
SEO friendliness
Most of the popular WordPress themes are SEO friendly. If your theme is lightweight and contributes to the superior performance of your website, it should naturally help to improve your site's search rankings. You can see that SEO friendliness will be mentioned as a key feature of many themes. Talk to the pre-sale support team before purchasing the plugin if you have any doubts.
Hassle-free support
Good support is an assured feature when you buy a premium theme. However, if you are buying a free one, it's quite important to ensure that you'll get free support too. Support forums of WordPress.org are the best place you can look for this. Recent activity in the support forum of a theme in question would be a sure indicator that it is well supported. Likewise, stay away from a theme whose support forum is inactive for a long time.
Also, you can do a search of the company and check how the general online reputation of the company is. You can also initiate a pre-sale query with the developer team before finalizing a purchase. This would give you a direct understanding of response time and quality of the support team.
Multilingual capability
If you are dealing with international customers, this is surely an important concern. The theme you choose should support multilingual WordPress plugins like WPML. Also, make sure the theme is ready for translation if you see an international scope in your business.
Social media integration
Look for good social media integration features on your theme. Easy share options to your customers also will make sure your products have farther reach. This is an important aspect in the current scenario where you need to promote your products in multiple channels. Facebook, Twitter, Pinterest, etc, should be accessible to you in just a click away; make sure your theme does this.
User reviews
In an online marketplace, user reviews definitely hold great value. Look for the ones that have a larger number of reviews and consistently better rating than others. Most theme developers will display user reviews on their product pages, which will surely guide you in the right direction. If user reviews are not available on a theme site, you can checkout for some objective general reviews on some external sources.
Choose a clutter-free theme
This is one of the concerns that you may face while trying to find a suitable theme for your WordPress site. There is a large number of multipurpose themes available in the market that can be used for diverse businesses. They are often good themes with a lot of features for customization. However, the challenge will be that a lot of features associated with the theme will have no use for you. In such a scenario, the additional features will only help to create bloating and thereby performance issues on your site.
If you are selling products from a specific domain, you can choose a specialized theme made for the domain. Such themes will not have a lot of unwanted features and will help you create a site focused on your domain and industry. The result will be a fast performing website that will be preferred by customers as well as search engines.
Free or premium?
When you set out to choose a WooCommerce theme, one of the first questions you might ask would be whether to choose a free or premium theme. Let's analyze a few aspects to see how it works for both options.
When you choose a free theme, obviously you don't have to pay anything to use it. However, most free themes available in the market have limited settings and features compared to their premium counterparts. Moreover, you cannot guarantee that the quality of a free theme is always good. Getting support from the developers is another challenge that you may face when you opt for a free theme.
Premium themes on the other hand, are quite well designed and offers extensive theme options. You may get a lot of useful plugins bundled with some of the popular WooCommerce themes. Moreover, you can be assured that you will get reliable support from almost all the prominent theme developers. Another positive aspect of premium themes is that you will get frequent updates, which will fix any bugs or security vulnerabilities.
Overall, when you are running a WooCommerce store, it is better to opt for a premium WooCommerce theme suitable for your domain. If yours is just a blog, maybe a free theme would suffice your requirement. Even in that case, look for update frequency and user reviews before installing a theme.
Go for reputed developers
One of the primary aspects that determine the quality of a theme will be the code. A theme that is not well coded can cause a lot of trouble to you including slow performance, security vulnerabilities, etc. It may not be a practical option to verify the code integrity before purchasing a theme. However, you can make sure that you are purchasing a theme only from a reputed developer. A reputed developer will surely ensure that the theme is developed adhering to coding standards.
A good theme should ensure speedy performance of your website. Almost all the best WooCommerce themes will ensure that your site is performing great and offering the best experience to customers.
A Few Best WooCommerce themes
Here is a list of great themes that you can consider for your store:
Flatsome

– This one ensures a responsive design and great user experience with no coding effort.

Shopkeeper

– Great WooCommerce integration, awesome customization options, and dependable support set this one apart.

Storefront

– WooCommerce's own theme StoreFront can be simply defined in two words – flexible and intuitive.

Porto

– Great customization features and layout variations are the signature traits of this awesome theme.

Neve – This one is popular for its simplicity, great design, and flexibility.

Divi

– Ease of use is particularly enhanced here with 'real-time design updates' and 'click and type' features.

FlatShop

– Expect great attention to detail and stunning transition effects with this one. Great customization options too.

Shoptimizer – Fast and feature-rich theme with a focus on enhancing the conversion rate of your store.
Resources to find great themes for your WooCommerce store
Here are a few links that you can check out for tips to find the best themes:
Related Posts:
Source link